PRISE is hiring a Program Administrator

Weekly Hours: 15 
Hybrid Schedule: In-person & Remote
Availability: Flexible weekdays with occasional evening & weekend
Apply: jobs.sju.edu/postings/20550
The Project Administrator would be responsible for supporting various projects. They would report directly to the PRISE Program Manager.
Responsibilities:
Support of specified projects for timely execution and completion of deliverables
Coordination of logistics for project events, meetings, conferences, etc.
Record keeping for project management (minutes, lists, purchasing, expenses and budget management, etc.)
Internal and external communication for projects
Interface with PRISE Program Manager, Principal Investigators, Project Partners, Participants, and Evaluators
Attend various program and project meetings
Participation in team decision making and planning
Other duties as assigned
Minimum Requirements:
Administrative experience
Associate Degree or 60 course credits.
PRISE is hiring a Director of Fundraising and Partnerships

Weekly Hours: 15 
Hybrid Schedule: In-person & Remote
Availability: Flexible with occasional evening & weekend
Apply: jobs.sju.edu/postings/20538
The Director of Fundraising and Partnerships, in collaboration with the Executive Team, is responsible for partnership development, fundraising, and creating an advisory board. 
Fundraising:
● Identify funding streams for PRISE that include foundations, businesses, industries, government, and private donations.
● Design and managing fundraising campaigns.
● Write applications/proposals.
● Liaise with university offices regarding fundraising efforts.
Partnerships:
● Cultivate partnerships with both individuals and organizations to support the work of the organization.
● Formalize partnership agreements.
● Enhance organizational visibility in the region to include a website and social media presence.
Advisory Board:
● Develop and convene the PRISE advisory board.
● Engage the board in fundraising efforts.
● Work with the advisory board to implement the strategic plan.
● Work with the advisory board to establish the long-term viability of PRISE.

Minimum Requirements:
Terminal degree in Business, STEM, or Education.
Experience in nonprofit leadership and fundraising.
Excellent communication skills.
Preferred Qualifications:
Experience in K12 or higher education environments.
Experience in organizational development.
Experience with productivity (MS Office, Google, etc.), social media, and website tools.
STEM Teachers Attending Events since 2011
Induction Program Participants since 2015
STEM Educator Events Hosted or Sponsored
Millions $ awarded in collaborative grants to support STEM Teachers
Spotlight on Scholars
Featured Scholar – Tasnim Aziz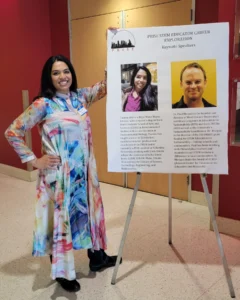 Tasnim
Aziz is a Philly science educator, Bryn Mawr College Biology Department and Education Program alum, UPenn Master of Environmental Studies alum, and a Ph.D. in Science Education candidate at Columbia University. As an educator,
Tasnim
is passionate about nurturing and enhancing her students' inherent superpowers.
Tasnim
frequently engages her students in dialogue about relevant social issues impacting their lives while supporting them in taking action to address the issues through STEM and digital activism. Her dedication towards supporting high school students in making meaningful connections with STEM and the environment led
Tasnim
to be spotlighted on
The Grid Magazine as a Penn MES alum in the community
. The U.S. Ambassador to Bangladesh, Marcia Bernicat, even invited
Tasnim
, a first-generation American of Bangladeshi origin, to speak at the Global Educators Initiative for Sustainable Transformation in Bangladesh.
Tasnim
recently contributed to Dr. Chris Emdin's latest book,
STEM, STEAM, Make, DREAM: Reimagining the Culture of Science, Technology, Engineering, and Mathematics
. It is a book that amplifies the voices of educators, innovators, and communities reimagining STEM, STEM education, and the culture of STEM. In the book, we provide practical guides for educators to nurture creativity, spark joy, and promote perseverance while honoring culture, increasing equity, and encouraging curiosity.
Tasnim
has a growing interest in decolonizing STEM education and often curates content on Instagram (
@tcplaneteer
) to center the voices of Black, Indigenous, People of Color (BIPOC) who are taking control of their narrative in STEM and addressing the climate crisis.
Tasnim
's research focuses on exploring how the youth leverage the powers from their respective identities and positionalities to take action for environmental justice.