STEM Education for Sustainability – 
Linking Schools and Communities
West Chester University has been awarded a PASmart Advancing Grant to continue working with PRISE on a follow up project to our EfS-Philly Teacher Leadership Program!
Please stay tuned for details of the program and a link to the application for teachers interested in being a part of the program.
Education for Sustainability-Philly Teacher Leaders
wrap up their year with a BANG!
At the June 9, 2018 GreenFutures and Education for Sustainability Symposium Education for Sustainability-Philly teachers presented workshops based on the units they created for the program.  Participants were inspired by these place-based STEM lessons and by the many sustainability community stakeholders that they got to connect with for resources that will help them get outside their school walls and into the neighborhoods where their students learn and live. To view the workshop presentations, Dr. Shabazz' Keynote and an inspiring and provocative talk by Professor Paul Morgan from West Chester University asking us What Are We Educating For?  click here.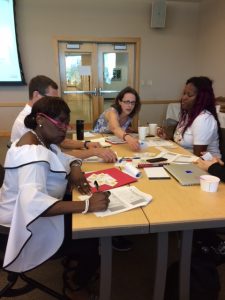 Education For Sustainability – Philly:  Inspiring Student STEM Engagement and Success by Harnessing Regional Resources and Developing Teacher Leadership
Education for Sustainability (EfS) – Philly is an National Science Foundation funded project that will address the national need for highly effective teachers who can engage and inspire their students to succeed in STEM by linking the study of STEM to the real world issue of sustainability. The project will create a model for master teacher development in Education for Sustainability that prepares teachers to teach STEM content using themes from sustainability. The teachers will learn to incorporate hands-on pedagogies that put learning into action by providing opportunities for students to address authentic sustainability challenges in their own schools and communities. The master teachers will support implementation of the School District of Philadelphia's comprehensive sustainability plan, GreenFutures, which calls for including education for sustainability core standards  throughout the curriculum. The project is situated within the region's STEM sustainability "ecosystem", a rich array of STEM and sustainability assets, including informal education organizations, institutions of higher education, green businesses, community, parent and teacher groups, that will be cultivated to support the master teacher program and the GreenFutures plan.
Principal Investigator:  Victor Donnay, Bryn Mawr College                                                                                                                      
Co-Principal Investigators:  Paul Morgan, West Chester University and Margaret Stephens, Community College of Philadelphia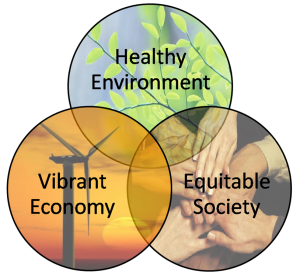 Education for Sustainability – Philly Teacher Leadership Program.
During the 2017-18 academic year, EfS-Philly developed and piloted a model for place-based STEM teacher leadership development in Education for Sustainability. In this year long teacher leadership program, 14 SDP secondary teachers from a range of disciplines and grade levels joined together with three faculty from the Community College of Philadelphia to participate in 60 hours of EfS and teacher leadership-focused professional development while taking part in an EfS learning community.  This Teacher Leadership program explored components of teacher leadership that would inform future initiatives.  
Participants identified ways to connect issues of  sustainability and Education for Sustainability core concepts as defined by the Cloud Institute with the School District of Philadelphia's Scope and Sequence for their discipline. They produced place-based EfS themed lessons, pilot tested instructional materials in their classrooms and then engaged in an assessment and revision process to refine their lessons.