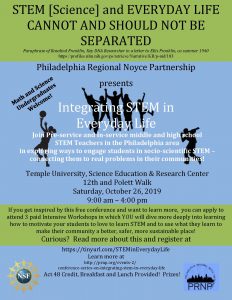 In October 2019 PRNP kicked off a year and half long study into the Socio-Scientific Issues approach to teaching.  After our kick-off conference, twenty-nine teachers signed up to learn more about this approach by attending three Intensives over the course of the year and implementing a lesson they designed with their team in their classrooms.
The Socio-Scientific Issues (SSI) approach involves planning instruction in your discipline while keeping in mind these key components:
Engaging in Scientific Modeling

Considering Issue System Dynamics

Employing Reflective Scientific Skepticism

Comparing and Contrasting Multiple Perspectives

Elucidating your own position/solution

Exploring underlying scientific phenomena
To read more about the framework for teachers click here:  Socio-Scientific Issues (SSI) Framework for participants
The Kick-off Conference for the PRNP Integrating STEM in Everyday Life Conference Series successfully brought together 85 STEM pre-service and in-service teachers and math and science majors from area institutions and school districts.  Offering 10 different workshops focused on the  socio-scientific issues (SSI) approach, the conference challenged STEM educators to bring the local community and local issues into their classrooms.  Using the socio-scientific approach, students can become engaged in real issues that impact their lives and learn to find out about and value the perspectives of others.  Based on scientific evidence they collect, students can make better decisions and effectively solve problems that they encounter in the course of their lives.  You can find presentations and materials from the Integrating STEM in Everyday Life Kick-off Conference here.
The National Science Foundation awarded PRNP a grant to hold five (5) conferences, including the full day Kick-off Conference held on October 26, 2019, three (3) half-day Intensives to explore the topic of socio-scientific issues more in-depth and a full day wrap up session to highlight the work of the teachers involved in the Intensives.   Following the Kick-Off Conference, 29 pre-service and in-service teachers signed up to participate in the three (3) paid Intensives.  The first Intensive with the 29 participants was held in December 2019.  Led by Dr. Victor Donnay, Bryn Mawr College and Dr. Augusto Macalalag, Arcadia University, these teachers explored through models how the SSI approach can work in the classroom.  Using the topic of  Buying my new car: free choice or government regulation?, participants discussed scientific ideas around carbon footprint, CO2 levels and their impact on  climate change.  They delved into data science with mathematical modeling around car efficiencies and economics, examined their own car desires and motivations for selecting a car and then thought deeply and shared ideas on the ethical question of whether there should be government policies determining the type of car one drives which are based on what benefits everyone in terms of clean air and climate change challenges. The focus was on multiple perspectives and how to use controversial issues in the classroom so that students can apply the science they learn to the hard choices they make in the real world.  
Teachers also formed teams that they would work with over the course of the three intensives in which they would identify their own controversial socio-scientific issue and develop a lesson plan that they would teach in their classrooms.  The pre- and in-service teacher teams came up with a variety of interesting topics such as Race as a Genetic vs Social Construct, Water Cycle and You! – We Got Some Things in Common, Food — how does food affect your health?, How safe are the schools with asbestos?, and others and made plans to meet virtually to develop the lessons.  
During the second Intensive in February, 2020, Participants actually got intense with multiple perspectives.  Led by Noyce Teacher, Tasnim Aziz, now studying for her graduate degree at Teachers' College in NY, the group engaged in debates around the topic of Genetic Engineering from the perspective of various stakeholders, i.e. researchers, parents, religious leaders, pharma representatives and policy makers.  Having to think in someone else's mindset and use their voice to express your position was a difficult task and demanded that you understand the science and data that surrounded your position so that you could represent it well. And sometimes, you had to argue a position that you did not personally believe in which helped you appreciate the perspective that others were coming from.  Check out one participant arguing his position from the perspective of a parent here.
Unfortunately, before we could hold the final Intensive and plan for the end of the year conference, COVID 19 struck and we decided to hold off on having teachers attend the rest of these sessions so that they could plan for their virtual classroom transitions.  The group did get together virtually once so that they could hear how the program would continue in the Fall/Winter 2020 (an NSF No-Cost Extension will allow us to do this!) and to hear a presentation by one of the teachers who actually got a chance to teach his lesson before schools closed down.  David Bungard, Noyce Teacher at Bodine High School, shared his process and the amazing results he got from careful planning when he taught a unit on "To GMO or Not to GMO?".
In September 2020, our third Intensive was held virtually.  We focused on
STEM modeling

Reflective scientific skepticism 

Elucidating one's own position/solution
Intensive facilitators used the example of Speed to raise a socio-scientific issue and model STEM concepts.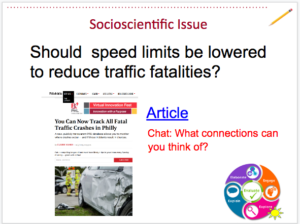 This project culminated on December, 2020 with a virtual Conference, Integrating STEM In Everyday Life II.  At the conference, participants attended various workshops in which teachers who participated in the program focused on specific aspects of SSI and shared their reflections on implementing SSI in their classrooms. Dr. Sami Kahn, author of It's Debatable, was the keynote speaker and inspired the audience to explore the SSI approach.  See her talk below.  This NSF project included a research component and results of the research will be released shortly.  Some results were presented at the PAC-TE conference in October by participant, David Bungard, and facilitators, Dr. Greer Richardson, Dr. Augusto Macalalag and Zachary Minken.